For the last two decades, Open-Xchange has been on a mission to offer open-source-based software alternatives to solutions from Big Tech companies. Having partnered with some of the world's largest Internet Service Providers (ISPs), hosters and telcos, we are now bringing our commercial experience to the public sector, to help maintain and expand digital independence, and prevent the risks arising from the dominance of a small number of providers.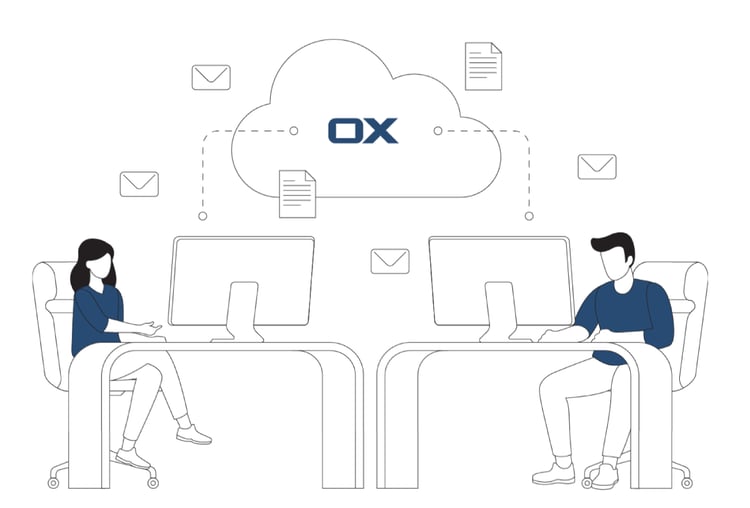 Digital sovereignty in danger
Sovereignty is all about choice, and this applies to private individuals, as well as to states. When it comes to digital sovereignty, the federal government and entire public sector have faced a series of challenges when it comes to the software they use for work. This is because, with the advent of cloud technology and the strong market position of a few – mostly US – providers for digital workplace software, there aren't many alternative solutions. In addition, the market-leading providers are increasingly pushing their customers into 'special' usage models.
This included an announcement from one vendor that, in the near future, its software could only be obtained from the company's own cloud. The use of cloud software in this way means that any associated data would no longer be stored on the users' own servers. As a result, the public sector will lose control and data sovereignty, because the cloud installations of many providers are distributed globally.
Another key point is that these hyperscale vendors normally fall under US jurisdiction and the Cloud Act, which states that US authorities and law enforcement agencies can request access to the stored data at any time if there is good reason.
This is simply unacceptable for the federal government and federal states, as part of a state's sovereignty is in protecting its data and documents. This primarily concerns confidential documents, including those around planning, budgets, science, security, and defense (other areas, such as culture, require less protection).
Open-source software offers an alternative
The German government has reacted and, led by the Federal Ministry of the Interior and Homeland (BMI), an intensive debate has begun around solutions that remove the dependence on software delivered by market-dominating providers; The federal states and the European Union were also involved.
The solutions cover a wide range of applications and are still under development and will remain so, as the entire environment is developing dynamically. They also include cloud models adapted to the needs of public sector because, in addition to protecting digital sovereignty, there is a want to operate IT systems more efficiently.
A public infrastructure for hosting applications and data is to be established and open-source software will play an important role in this. At the national level, the federal cloud has created services with graduated levels of security. From a protected area for classified information, to services with lower-level security requirements, for which partners are also involved.
The IT Planning Council adopted a strategy for a German Administration Cloud (DVS) in 2021, and this is being developed on a broader basis with the assistance of companies including Open-Xchange, Dataport and IONOS.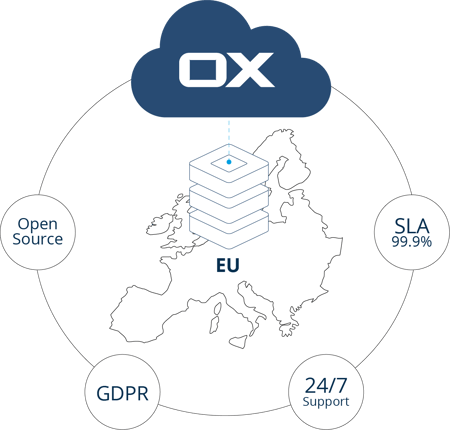 When it comes to applications, the German government wants an open-source alternative to those email and collaboration platforms from the hyperscale vendors. The BMI has created the working name of 'Sovereign Workplace' (Souveräner Arbeitsplatz), and the dPhoenix suite is a reference implementation that combines all the required tools. The BMI has commissioned Open-Xchange's partner Dataport to develop the suite further.
Open-Xchange delivers its groupware, OX App Suite, along with its Dovecot email server software to the project. Together with other partners, including Univention, we are developing a 'Sovereign-Workplace-as-a-Service' in the cloud.
Federal states benefit from Open-Xchange's open-source know-how and products and, as all solutions are cloud-based, there is no need for time-consuming installation on site. As a result, some states use our solutions in the education sector. They also benefit from the open-source community and partners such as Heinlein, ownCloud and Univention.
In addition, this approach also means that federal and state governments can choose which cloud provider they want to obtain their services from.
Open-Xchange brings its experience of working internationally to support the needs of public sector users in Germany. With offices in many major industrialized countries, for more than 15 years, Open-Xchange has partnered with many of the world's largest Internet Service Providers (ISPs), telcoms companies and hosters to deliver secure open-source email and productivity solutions that include storage, as well as file and document management.
Headquartered in Germany, Open-Xchange's software is currently used by more than 220 million people globally, including end-users in a range of public sector organizations, including five German states.
German solutions provide real alternatives to large technology companies
Open-Xchange works directly with a number of best of breed German open-source software vendors to deliver solutions specifically designed for public sector users. As a result, customers don't have to combine software from various vendors themselves – instead, they have access to a complete digital workplace solution. In addition, they can choose where their data is stored and who can access it – regardless of whether it is cloud-based, in their own data center, in a service provider's data center or on-premise.
Our partners are committed to ensuring digital sovereignty and protecting privacy, and adhere to the European Union's (EU) General Data Protection Regulation (GDPR). As a result, any solution offers a secure open-source alternative to those from international hyperscale vendors.
What Open-Xchange offers customers and users in the public sector: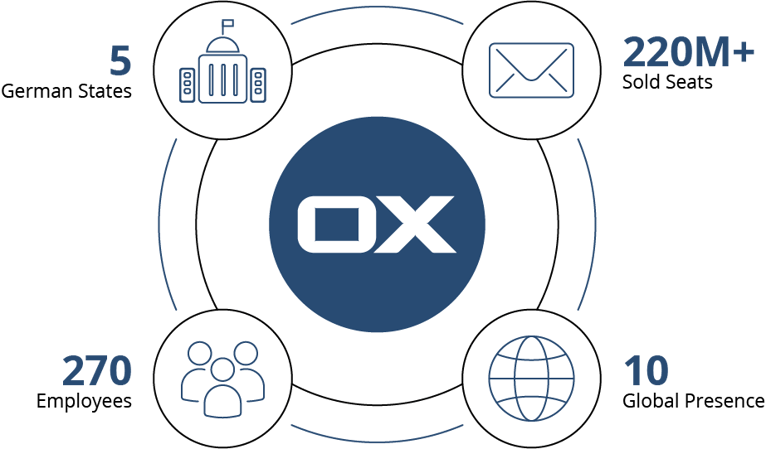 An open-source communication and collaboration suite designed specifically for the public sector, delivered in partnership with leading open-source software companies and partners.
Our solutions are used by many of the world's largest telecommunications companies and ISPs, on-premise and in the cloud. Public sector customers and partners benefit from the experience gained serving our private sector customer base. The result being a robust and highly scalable product offering ideally suited to the diverse requirements of the public sector.
Access to a European software ecosystem that offers a real alternative to hyperscale software vendors.
German data centers mean that Open-Xchange's solutions are designed from the start to comply with European regulations and support digital sovereignty and privacy.
Tight integration with other best of breed software from other European open-source champions allows tailored and scalable solutions to be created with greater familiarity and lower onboarding efforts for users.
With more than 220 million end-users worldwide, Open-Xchange provide a fully featured and mature set of email, communication, and collaboration tools (chat, video conferencing, document editing and more) that have been further enhanced for public sector users.
E-Mail
Erstellen Sie Ordner, Registerkarten und Filterregeln
Markieren, Sortieren und Suchen
Anhänge anzeigen und per Drag-and-drop verschieben
Erweiterte Urlaubsmeldungen - mit Warnungen
Gruppenpostfächer (auch Funktionspostfächer genannt)
Delegierung – Senden Sie E-Mails im Namen einer anderen Person
Kalender
Mehrere Ansichten: Tag, Arbeit, Woche, Monat, Jahr
Gemeinsame Kalender und Delegierung
Mehrere Erinnerungen - vor und nach dem Ereignis
Erstellen Sie Folge- oder wiederkehrende Termine
Kontakte
Sammelt Adressen automatisch
Vollständige Details einschließlich Fotos
Import und Export
Mit allen Geräten synchronisieren (CardDAV)
Persönlich, öffentlich und geteilt
Kontakte einfach finden
Aufgaben
Einfache Aufgaben: To-do-Listen mit Deadlines
Synchronisieren Sie nativ mit Ihrem Telefon/Desktop
Geteilte Aufgaben – fügen Sie Teammitglieder hinzu
Komplexe Aufgaben – fügen Sie alles hinzu, von Kosten bis Entfernung
Optional
Dateiverwaltung von OX (OX Drive), Nextcloud oder ownCloud
Office-Produktivität von OX (OX Documents), Collabora oder OnlyOffice
Videokonferenzintegrationen für OX, Jitsi oder anderen
Chat-Integrationen für Matrix/Elements