Annex C – Customer Success Services
1. Customer Success Packages
This document provides details on OX Customer Success Services.
The OX Customer Success Services are service efforts of Company aiming at the enhancement of Customer's marketing and communications in connection to the onboarding experience of Customer's End Users to OX Software utilizing best-practices created by Company. This covers the following three levels of Customer Success Services: Marketing in a Box, Full-Service and Market Research.
2. Marketing in a Box
The Marketing in a Box Package is an online self-service portal that includes 4 modules:
Marketing Training,
Product Training,
User Collateral and
Reseller Collateral.
The following sections outline what's included in the Marketing in a Box Package.
2.1 Marketing and Product Training Modules
The modules Marketing Training and Product Training provide an in-depth introduction in the form of an interactive training session on the concepts of Marketing, Sales and Customer Care and how they can be applied to a successful migration and launch of the Service by Customer. This is covering best practices and strategies for launch, migration, upselling and cross-selling, user communication, customer support and onboarding.
2.2 Reseller and User Collateral Modules
The modules User Collateral and Reseller Collateral provide templates and step-by-step guides for Customer acting as Reseller to successfully onboard, market, sell and support the Service. Customer receives access to high-level go-to-market strategies and templates for creating migration and launch project plans and timelines, life-cycle user communication, video scripts, upselling and cross-selling and other promotional emails. Customer may link to Company's end user landing page (https://oxappsuite.io/en/) or reuse the content and images as needed. This module also includes a self-serve first-level training available for all internal teams and Customer's support agents. The portal is available to Customer and its teams throughout the entirety of their contractual relationship with Company.
Please see below for a list of the Reseller and User collaterals included:
RESELLER COLLATERAL
| | |
| --- | --- |
| Sales & Starter Kit | |
| OX Administration | Branding |
| | Style Guides |
| | Corporate Profile |
| | |
| Sales | Pricing and licensing |
| | eBooks |
| | Case Studies |
| | White papers |
| | OX Cloud Packages |
| | |
| Marketing | Quick Sales Guide |
| | Sales Script |
| | Templates for Email drip campaigns |
| | Objection handling |
| | Boiler Plates 25, 50, 100 words |
| Support | |
| | FAQs |
| | Help Articles |
| | Searchable Knowledgebase |
USER COLLATERAL
| | |
| --- | --- |
| User Landing Page | |
| | Technical Setup |
| | Copy |
| | Graphics |
| | Videos/Animations |
| | Programming |
| User Communication | |
| Administration | Purchase Notice |
| | Account Confirmation |
| | Passwords |
| | Links |
| Lifecycle | Welcome Email |
| | Benefits of Upgrades |
| | Getting Started with OX |
| Sales/Promotion | Lead Generation |
| | Upsell |
| | Cross-sell |
| | Trials |
| | New Product |
| | New Price |
| Customer Care | Bugs |
| | Issues |
| | Help requests |
| Feedback/Research | NPS |
| | Quick Polls |
| | Testimonials |
| In-Product | Widgets |
| | Notifications |
3. Full-Service Package
The Full-Service Package provides Customer with Consulting Services on the onboarding and launch of the Service. Company supports Customer to actively develop go-to-market strategies, project timelines and fully customized collateral and training materials for the migration and launch of the Service. Please see the graphic below for the entire Customer Success Lifecycle and the Consulting Services that Company offers as part the Full-Service Package: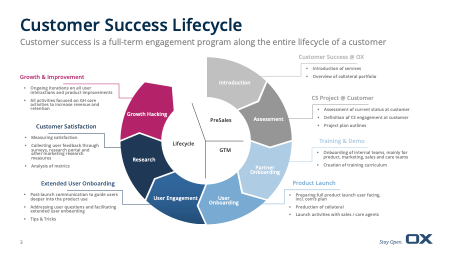 3.1 Consulting and Project Management
Within the course of the Consulting and Project Management, Company consults Customer on key initiatives to enhance Customer's long-term success. Company provides insights on the Service and onboards Customer's marketing, sales, customer care and product management teams, helping Customer to establish the Service quickly on the market. Company supports Customer to integrate its teams with the goal to enhance its internal collaboration. Company partners with Customer end-to-end, helping Customer to build its individual growth hacking strategies focused on acquisition, retention, recommendation, and revenue. Company supports Customer to identify opportunities, prioritize projects, design programs, develop growth strategies and promotional campaigns, oversee execution, and analyze results to continue refining over time.
3.2 Customized Collateral
Company supports Customer with the development of Customized Collateral, meaning the customization of the following set of marketing and communications collateral, to enhance the onboarding user experience.
3.2.1 Scope of Services
The scope of Customized Collateral will be agreed upon in the Order Form. The Customized Collaterals may include, inter alia, the following components:
Collaterals

Lifecycle copy (finalized by Customer)

Video scripts (finalized by Customer)

Copy for landing pages

Screenshots

1x Product introduction video
(animated, up to 3mins)

10x Tutorial videos
(screen cast, animated, up to 1.5mins each)

8x Benefit videos

(animated, up to 3mins)

Voice over (AE, German)

Landing Pages (pre-and post-migration, total of 20 pages, incl. screenshots, in-device shots, English)

Customization

Customization of all collateral specified in the Order Form
Customer may choose from the following customizations of the respective collateral:
Applications in dropdown menus under Apps and FAQs may be customized based on which applications customer is offering.

Replacement of OX logo with Customer logo.

Replacement of the wording "OX App Suite" with Customer product name.

When "OX" appears before an app like OX Mail, "OX" may be removed.

All screenshots that show the OX App Suite brand may be replaced by Customer-branded screenshots

All videos may be customized for Customer brand using Corporate Identity Guide (see below). All images of user interface may be shot in Customer's branded user interface.

Bottom of page elements may be customized for Customer: YouTube, Facebook and Instagram links, Imprint, Privacy Policy and Terms & Conditions. OX App Suite log in page will be replaced by customers login page.
3.2.2 Branding and Theming
Any Customized Collateral produced by Company will be created based on the corporate identity guidance to be provided by Customer ("Corporate Identity Guide"). Company shall provide Customer with Customized Collateral defined in the Order Form and in compliance with the Corporate Identity Guide according to the Company's reasonable discretion. Customized Collaterals can only be provided to Customer upon delivery of a Corporate Identity Guide containing the required information. For the avoidance of doubt, the Customized Collateral Package does not include any subsequent revisions of delivered customized content.
3.2.3 Project Management
Each Party will designate a "Project Manager" that will manage the production of Customized Collateral and coordinate its resources and teams.
3.2.4 Acceptance Terms
To ensure a smooth delivery and acceptance of all Customized Collateral, the following acceptance process will be employed:
Notification of Delivery:

Upon completion of a Customized Collateral item, Company will notify Customer in writing (email shall suffice).
Final Acceptance: Customer's acceptance of all deliveries is assumed 14 days after the delivery of the Customized Collateral item. Customer may deny acceptance if the Customized Collateral is not essentially in compliance with the Corporate Identity Guide as reasonably assumed by Company. The productive use of the Customized Collateral is considered equal to formal acceptance.
3.3 Customer Support Training
Company provides Customer's support teams with in-depth training sessions on the Service as part of the onboarding procedure to help Customer to enhance its selling and supporting of OX AppSuite. The Customer Support Training may include the following typical agenda for a Level 1 support training. The final scope will be agreed upon in the Order Form.
Target audience

Description

Objective

All Support / Customer Care Teams

Product overview

· Basic overview of OX App Suite

All Support / Customer Care Teams

Introduction to OX App Suite, general overview with initial product demo

· Initial demo of OX App Suite to ensure basic familiarity for each participant

Individual groups, separated trainings

Deep dive into OX App Suite, based on individual team responsibility

Deep understanding of OX App Suite for each group individually

All Support / Customer Care Teams

Product comparison legacy vs. new product:

What changes?

Feature mapping

Benefits of new vs. old

Understanding the differences of both products to be able to anticipate potential customer inquiries

All Support / Customer Care Teams

Introduction to available resources and collateral

- Self-Serve Level 1 Training

- Training / product collateral

Allow participants to self-train / on-demand revisit trainings given
4. Market Research
Company will collaborate with Customer to develop a joint research project to investigate strategic topics around business models and product line-ups that have high levels of attractiveness for users of service providers of all disciplines.
5. Customer Success Services Fees
The Customer Success Services will be provided for the Service Fees agreed upon in the Order Form and under the payment terms defined therein.
Exhibit to Annex C – Customized Collateral Samples