World-class solution architects
Sales Engineering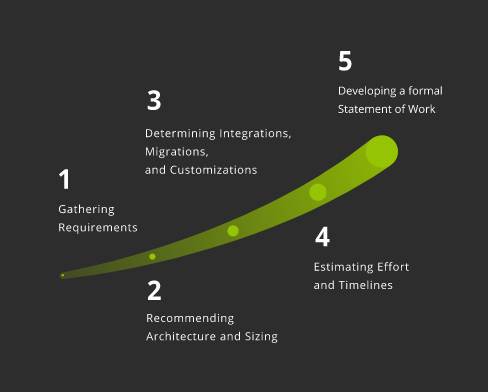 At Open-Xchange, we aim to be a trusted partner in your business. A key part of this partnership is our Sales Engineering team. The OX Sales Engineering team works with your team to find the right technical solutions for your needs, and brings in the right technical experts. Even before you are an OX customer, Sales Engineering takes care of implementation planning and recommends the best path forward. They provide the technical project management and develop a competitive estimate and a comprehensive timeline for delivery.
In addition to our Sales team, the OX Sales Engineering team is one of your first contacts with Open-Xchange while planning your project. This OX team supports you right at the beginning by gathering your requirements and recommending specific architecture and sizing of your hardware and software. The end result of this phase is a well-planned project structure that leaves no space for errors.

Gathering Requirements
The OX Sales Engineering team works in partnership with your team to gather and document all your requirements. We work with Engineering, Operations, Security and more to understand your infrastructure. We collaborate with Product Management, Marketing and others to get to know your customers and your approach to the market. We also interface with Finance, Legal, and Abuse to determine how OX can best fit with your corporate and regulatory needs. Everything is documented and shared with your team.

Recommending Architecture and Sizing
Open-Xchange offers both on-premise and hosted solutions. Our software is always part of a larger infrastructure. The OX Sales Engineering team collaborates with you to determine the right architecture for the solution and ensures that OX fits with your systems. Then, based on your customers' usage patterns, we help determine the right hardware sizing for your platform of choice. OX Sales Engineering experts also set up training for your teams so that everyone knows what to do once the system goes into production.

Determining Integrations, Migrations, and Customizations
While the OX core software is the same everywhere, every installation is unique. Each OX customer has their own authentication systems. Everyone has their own provisioning framework. Every brand is different. The OX platform accommodates these differences. The Sales Engineering team helps determine how to meet these complex needs and documents the work needed. We help plan migration of your old data, and if necessary work with a pool of specialized partners who can do this work for you. Our experienced OX Sales Engineers also provide consulting and training to your developers for any work that you may need to do.

Estimating Effort and Timelines
It's not enough to figure out the task list. You need a concrete plan for who is going to do what, and when. And you need to know how much it will cost. The OX Sales Engineering team works with other teams inside OX to come up with estimates and timelines that you can count on. We also work hand-in-hand with you to make sure that the work done by OX, your teams and third parties is well coordinated.

Developing a formal Statement of Work
Once everyone has agreed on the efforts and timelines, the last step is a formal Statement of Work (SOW). The SOW defines responsibilities and scope and provides a framework to support our growing partnership. By signing the SOW along with a service agreement and other documents, you'll kick off the next step in launching your service to the world.
Sales Engineering

in a Nutshell
The OX Sales Engineering team is an important part of your partnership with Open-Xchange. Their consulting helps you make the right choices as you deploy OX products. Their years of experience "in the trenches" is invaluable. You'll come to see them as more than Sales Engineering - they will become your trusted advisors.